The Sargeant Bay Society is a non-profit organization located on the Sunshine Coast of British Columbia, Canada.  As environmental stewards, our Mission is to promote conservation of the natural habitat of Sargeant Bay and its neighbouring watersheds.  We invite you to learn more about the work we are doing to protect this ecologically sensitive habitat and how you can make a difference.  
Please join us by becoming a member!
LATEST NEWS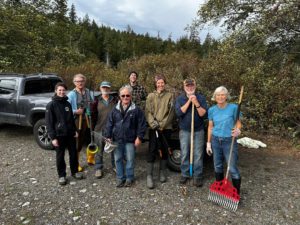 Sargeant Bay Clean Up   On September 26th, a dedicated group of volunteers from the Sargeant Bay Society and the Sargeant Bay Streamkeepers cleaned up the beach, the trail and the marsh accesses on the berm.  

The group managed to fill three truckloads of debris by trimming encroaching blackberries and Nootka Roses that have fallen onto some of the trails to the marsh,  improved view corridors along the berm as well as cleared debris at the waterfront.

As the salmon migration window is quickly approaching, they also removed preliminary wooden debris at the beaver dams in the marsh.
      Many thanks to all who came out!
Sargeant Bay Society Student Bursary   Congratulations to Owen Tonis, the recipient of the 2023 Sargeant Bay Society Student Bursary.  Enjoy your studies at the University of Victoria Owen!

The Pumpkinseed Sunfish is an invasive species continuing to stir up concern for Sunshine Coast aquatic ecosystems.  The fish has a sparkle of colours that make them almost look tropical or like a colourful perch.  The fish, native to eastern North America, can be considered a nuisance species, according to the department of Fisheries and Oceans website.  They eat amphibians and small fish alike and can reach high densities, competing with native fish.  They also have disastrous consequences for the local stickleback.  If you come across one while fishing, please don't put them back in the water.